Soup Social and Holiday Sing
Saturday, December 8 at 5:00 p.m.
Bring your favorite soup, chowder, or chili to share with friends at the Arts Center. Enjoy great food, family fun, and festive holiday music led by our new Artistic Director, Gwen Tracy-Deuss. The event is free and everyone is welcome to attend. For additional information, please contact Christine at christine@adirondackarts.org or call the Arts Center during business hours at 518-352-7715.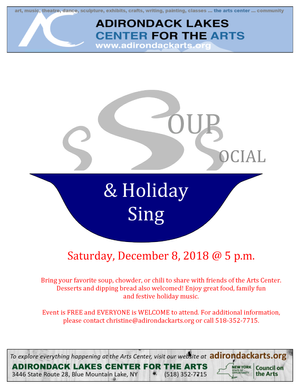 ---
Past Special Events at the Arts Center in 2018:
Stay tuned for our 2019 schedule of performances, concerts, workships, benefits, and more!