Classes & Workshops
All classes are located at the Arts Center in Blue Mountain Lake.
Please call us at 518-352-7715 for your reservation
or click on the provided link to reserve your spot online.
Discover Your Inner Chef With The Arts Center!
Adirondack Lakes Center for the Arts invites you to join
Blue Mountain Center's Chef Alan Stafford for cooking classes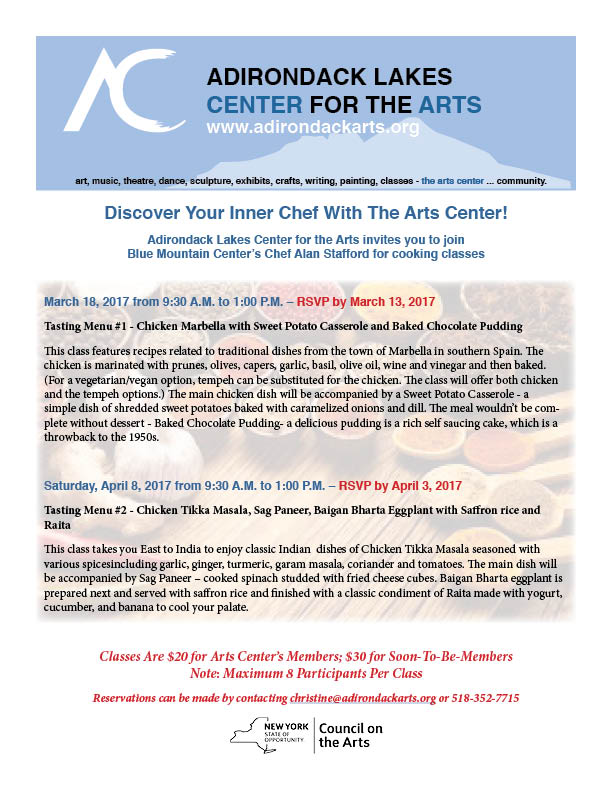 March 18, 2017 from 9:30 A.M. to 1:00 P.M. – RSVP by March 13, 2017

Tasting Menu #1 - Chicken Marbella with Sweet Potato Casserole and Baked Chocolate Pudding
This class features recipes related to traditional dishes from the town of Marbella in southern Spain. The
chicken is marinated with prunes, olives, capers, garlic, basil, olive oil, wine and vinegar and then baked.
(For a vegetarian/vegan option, tempeh can be substituted for the chicken. The class will offer both chicken and the tempeh options.) The main chicken dish will be accompanied by a Sweet Potato Casserole - a simple dish of shredded sweet potatoes baked with caramelized onions and dill. The meal wouldn't be completewithout dessert - Baked Chocolate Pudding- a delicious pudding is a rich self saucing cake, which is a throwback to the 1950s.
Saturday, April 8, 2017 from 9:30 A.M. to 1:00 P.M. – RSVP by April 3, 2017
Tasting Menu #2 - Chicken Tikka Masala, Sag Paneer, Baigan Bharta Eggplant with Saffron rice and
Raita
This class takes you East to India to enjoy classic Indian dishes of Chicken Tikka Masala seasoned with
various spicesincluding garlic, ginger, turmeric, garam masala, coriander and tomatoes. The main dish will
be accompanied by Sag Paneer – cooked spinach studded with fried cheese cubes. Baigan Bharta eggplant is prepared next and served with saffron rice and finished with a classic condiment of Raita made with yogurt, cucumber, and banana to cool your palate.
Classes Are $20 for Arts Center's Members; $30 for Soon-To-Be-Members

Note: Maximum 8 Participants Per Class
Reservations can be made by contacting christine@adirondackarts.org or 518-352-7715